The espadrille
Temporary out of stock
49,00€
Material : linen and hemp
Please send us your email below to be informed when they are back in stock!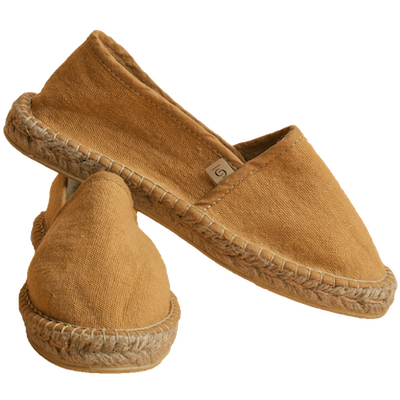 The espadrille
Temporary out of stock
49,00€
Made in Mauléon (64)
Material : linen and hemp
Please send us your email below to be informed when they are back in stock!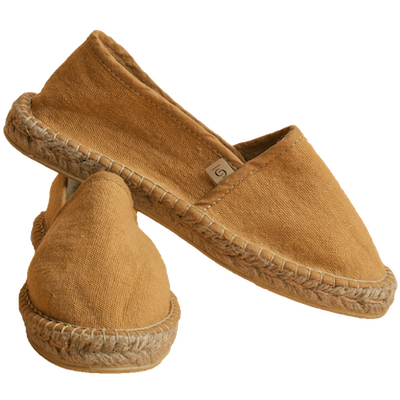 Dear Customers,

It's amazing!

The stock of espadrilles that we thought would sell out in a few weeks is gone in less than 8 days, exceeding our best expectations. Since you like them so much, we are going to replenish our stock of fabric so we can produce a new series. If you want to be notified when our reinvented espadrilles are available again,
please leave your email address here:
The entire Couleur Chanvre team remains at your disposal and wishes you a great summer
Just another espadrille? No, a unique espadrille!

Elegant
Our espadrille comes in 10 colors from the Couleur Chanvre range, intense, deep and incomparable colors. It will fit your foot with elegance and will harmonize with your different outfits of city, sport, dressed or not.

And, did you notice? The inside of the espadrille is a different color. A whim? No, a singularity that is our trademark.


Basque, authentically Basque!
A Basque espadrille made in the Basque Country, it seems natural? However, in today's world, it is not...
Our espadrille is entirely made in the Basque Country. The fabric is an original Couleur Chanvre production from the St Jean de Luz workshop.
All the other operations are carried out near Mauléon, the capital of espadrille, in Stéphan's workshop, open since 1947, which carries out all the stages of manufacturing an espadrille, which is unique today.

Finished with low-end cotton and jute from the end of the world. Make way for the local and noble materials used in the past: hemp and linen.


Comfortable and healthy
The upper holds the foot without squeezing it and without hurting it because it is woven from a very beautiful Normandy linen, spun from long fibers and with a grammage close to 1000 grams per m2, which is exceptional. This linen has naturally been dyed in our workshop in St Jean de Luz, so without any toxic products, irritants, allergens and endocrine disruptors for the well-being of your feet.

The sole is made of hemp and linen, for durability and extreme comfort, while ensuring good balance and good posture. The sole is protected by a natural rubber for contact with the ground.

Noble and healthy materials to make your foot feel good in all circumstances.


Sustainable
Who wrote that espadrilles should only last one season? Certainly not us! The espadrille was once a durable shoe, and ours certainly is.

High quality materials, high weight fabric, bias binding for cohesiveness and hand stitching is the recipe for durability.

If you take good care of them, our espadrilles will last you a long time. Made locally by Basque artisans who are very committed to ecology, with these espadrilles, you have an exceptional product, respectful of your health and the planet.


Why a made-to-order production?
For Stéphan Goyhenetchegaray who runs the Mauléon workshop, as for us Couleur Chanvre, our production has a meaning. Unique items, of high quality, in noble materials, which must be worn and not stored on shelves.

This process allows us to produce your espadrilles on demand, without wasting either fabric or materials, and without having unsold items that would force us to increase our prices.

But we have organized ourselves to produce your espadrilles in the fastest time possible.


Beware, quantity is limited!
This espadrille is the story of a meeting. That of Stéphan Goyhenetchegaray with Couleur Chanvre.
Stéphan is one of the last manufacturers of traditional espadrilles near Mauléon, capital of the Basque espadrille.
In his workshop created by his grandfather in 1947, he carries out all the stages of manufacturing an espadrille, which is unique today!

And Stéphan is also a fan of Couleur Chanvre because he knows that we make incomparable fabrics :-)

The history of the espadrille is a little bit the history of French craftsmanship and industry for the last 40 years. Relocations, research of low-end materials to produce cheaper in order to sell to the mass market, disappearance of tools and know-how. And once prosperous cities that are now abandoned...

But Stéphan is jovial and passionate - a true Basque :-) - when he talks about his job and inevitably, we shared common values and a collaboration seemed obvious to us.

That's why we decided to reinvent the authentic espadrille together, with a unique quality, by combining his ancestral know-how and that of Couleur Chanvre, to develop an elegant, healthy and durable espadrille with beautiful materials, as in the past made of linen and hemp, to replace the ones you find everywhere in cotton and jute. And at the same time, we wanted a comfortable product, adapted to modern life and less spartan than the espadrille of our forefathers. It took us more than 18 months to develop this espadrille. We tested different soles, and after several trials, we chose a hemp and linen sole with great strength and flexibility.

For the upper, it took more than 1 year to find the right solution. We first tested hemp, our specialty, in different weights. But once dyed, hemp is too soft, which is detrimental to the foot's support in the espadrille. With linen, we had better results and after various tests, we opted for a thick linen from long fibers of the cooperative Terre de Lin in Normandy. The result is a very comfortable, solid fabric that gently holds the foot. Stephan's workshop did all the testing and had to adapt its manufacturing to our fabric and after a dozen different prototypes, the first model that satisfied us was finally released.

These traditional espadrilles made by Stéphan and Couleur Chanvre respect the specifications of the MAULEON brand, thus certifying a unique know-how by honoring the history of the espadrille manufacturers of this city.

And today, we are proud to offer you an espadrille entirely made in the Basque country, which is rare.