New collection
" Endlessly Organic" Cotton
Why an organic cotton range?
---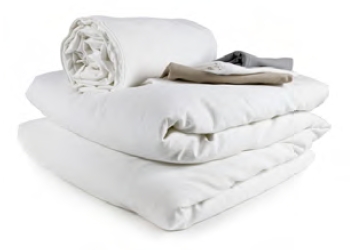 Even though linen and hemp only represent 0.3% of today's global production of textile fibres, cotton represents 23% of this production. Today, it is the only natural fibre which is blocking the progress of synthetic and artificial fibres which represent more than 75% of production. (sources UIT).
Cotton is a fibre loved by everyone, but there are a multitude of qualities, ranging from the most mediocre cotton to the best.
To find the cotton which suited us, in terms of our ethics and our values, we searched in different countries, because cotton doesn't grow in France. We wanted a pure and gentle cotton fibre, of the highest quality, certified organic - that is essential for cotton - and produced in a responsible way which respects the environment, with well thought-out irrigation methods.
In the end, we chose a wonderful organic long brin cotton produced in Turkey, which is very soft and whose qualities have already been strengthened by hackling which refines and strengthens the strands. This cotton holds its dye fantastically and its softness is amplified by our unique finishing process.
That is why the cotton that we offer you has so many great qualities: elegant and comfortable, it is very soft, but also breathable and very solid.
Endlessly organic
In the majority of cases, the organic cotton is filled with toxic chemical products during its textile transformation… the word "organic" no longer has any meaning.
That's why we have developed after years of research "0% Dye by Couleur Chanvre". This unique process excludes from our dyeing phase all primers and chemical products with a toxic finish, endocrine disruptors, allergens or irritant products, which are used in almost all textile industries.
And we are the only ones who use such a process.
This cotton is TRULY ORGANIC because from its cultivation to the production chain, including, of course, our process of 0% DYE, we have respected its organic status by eschewing all toxic, irritant and allergenic products.
With this "endlessly organic" cotton, you know that it really is organic from start to finish !