Why do we sleep better in our Couleur Chanvre bed linen?
Many of our customers have told us that they sleep much better in our bed linen, that they feel an incomparable well-being and a new kind of experience. This does not surprise us and can be explained by different factors:
Natural living fibers have beneficial properties

We are convinced that natural textile fibers have beneficial properties for our well-being and health, just like the fruits and vegetables in our diet. However, these fibers must be living, i.e. preserved and free of toxic products. This principle is the basis of our work at Couleur Chanvre.

Since ancient times, we have known that wool soothes rheumatism and arthritis, hemp is anti-allergic, highly antibacterial and thermoregulatory, flax protects against irritations, silk soothes eczema and regulates body temperature. And when we see the state of preservation of Egyptian mummies, we realize that certain fabrics - in this case hemp and flax - have powerful capacities that last for millennia.

On the contrary, for us, synthetic or artificial fibers are dead - besides, synthetic fibers are derived from fossil energy - so they are indeed dead.

Our vocation at Couleur Chanvre is to transform these noble and living textile fibers in a respectful way so that they can transmit all their natural benefits to you.

Discover our hemp bed linen
The bed linen is as important as the bed and mattress for the sleep

It is often said that to sleep well, you need a good mattress and a good box spring. This is true of course, but we don't talk enough about the bed linen. Our skin, our airways and our mucous membranes are in direct contact with sheets, bed covers or pillowcases. We are generally underdressed and spend more than a third of our lives in bed*. Inhaling or friction with bad fabrics severely disrupts sleep, so it is very important to sleep in beautiful, healthy fabrics.

For our Couleur Chanvre bedding, we select the finest, longest and softest hemp or flax fibers. This gives our bedding exceptional depth and comfort. Hemp, for example, thanks to its hollow fiber that gives it volume, and envelops us in its softness. The thermal qualities of these fibers are also very important: hemp is insulating, breathable and thermoregulatory, which puts the body in optimal condition for sleep, in all seasons and especially in winter. Flax, on the other hand, brings coolness quickly and is therefore well adapted to warm regions and seasons.
**The sociologist Jean Viard has calculated that our life expectancy is about 700,000 hours and that out of this total, we sleep about 200,000 to 250,000 hours, thus more than a third of our life.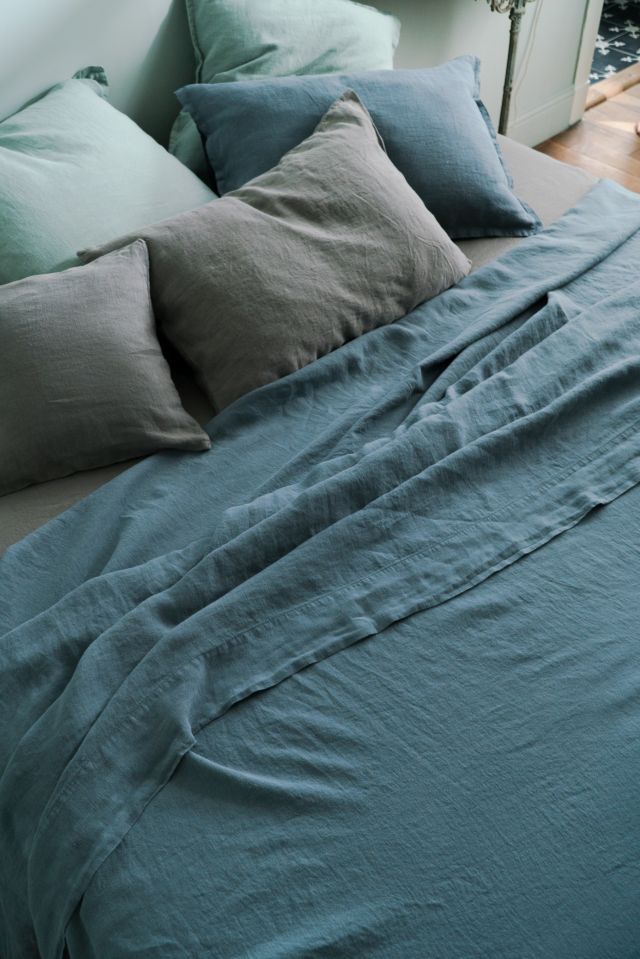 Discover our flax bed linen en Lin
The absence of toxic products soothes the body during sleep

If you sleep in toxic bedding, either because the fiber is synthetic, of poor quality or made with bad dyes or finishes - which is unfortunately very often the case - the body will get intoxicated by inhalation or friction. We are not necessarily aware of it, but the body knows it because it feels it and fights against this toxicity. By trying to defend itself, it will inevitably disturb sleep.

On the contrary, if it is not attacked in any way, it will let itself go, abandon itself totally and peacefully, and sleep will be more serene and deeper. At Couleur Chanvre, we have banned from our dyeing and finishing process all toxic, irritating, allergenic, endocrine disrupting and heavy metal products, going far beyond existing labels. This process that we carry out in our workshop in St Jean de Luz is unique in the industry.
Our commitment is to guarantee you a unique, beautiful and healthy bed linen, so that your nights are more beautiful.